District Attorney Edwin L. Miller, Jr.

Ed Miller dies at 87; longtime D.A. for San Diego County
Elected in 1970, Miller prosecuted political figures and business leaders whose questionable dealings had been ignored by law enforcement and the local media.
By Tony Perry, Los Angeles Times
March 5, 2013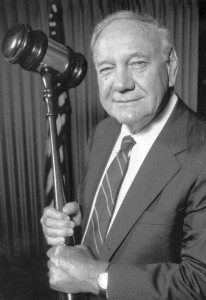 Ed Miller, who served as San Diego County district attorney for 24 years and, beginning in the scandal-ridden 1970s, was a major figure in reforming the city's political, business and law enforcement establishment, has died. He was 87.
Miller died Sunday of liver cancer at his La Jolla home, said his son, Stephen.
The Democrat served in the San Diego city attorney's office in the 1960s and was appointed U.S. attorney in 1966 by President Lyndon Johnson. After being ousted by Johnson's Republican successor, Richard Nixon, Miller went into private practice.
When the county's longtime district attorney retired, Miller declared his candidacy against the incumbent's hand-picked successor, who enjoyed support from the predominantly Republican establishment.
Miller's victory in 1970 was a "seminal moment" of change in San Diego, said John Kern, a newspaper reporter during that era who later became a political consultant and chief of staff during Dick Murphy's service as mayor.
"It was an earthquake to the establishment — here was this Democrat, this outsider, as D.A.," Kern said.
Under Miller, the district attorney's office prosecuted business leaders whose questionable dealings had often been ignored by the local media and legal community. Among those prosecuted and convicted was C. Arnholt Smith, a Nixon confidant and "Mr. San Diego" whose bank had failed amid self-dealing.
Miller expanded and professionalized the district attorney's office. An insurance fraud unit was established, a witness and victim assistance program was begun, and prosecutors were assigned to investigate hate crimes and child abuse and to make sure that killers sentenced to life in prison were not released.
Along with Miller, two other reformers rose to prominence in San Diego in the early 1970s — Pete Wilson was elected mayor and Bill Kolender became police chief — following scandals that led to the downfall of their predecessors. Within a decade the civic landscape had been profoundly changed because of the three.
Wilson removed the influence of Smith from City Hall and increased the importance of community planning groups. Kolender supported a community-oriented policing style and expanded the hiring of women and minorities.
As the county's chief law enforcement official, Miller often played a key behind-the-scenes role. Miller, quietly and without notice to the press, called together law enforcement officials from three agencies to urge "more attention, energy and resources" to solving a string of prostitute murders, recalled Norm Stamper, a former assistant San Diego police chief and later the police chief in Seattle.
"Those victims mattered as much to him as any high-profile, socially connected murder victim," Stamper said.
Miller's office also prosecuted then-Mayor Roger Hedgecock on corruption charges linked to his 1983 mayoral campaign to succeed Wilson, who had been elected to the U.S. Senate. Convicted of multiple felonies at his second trial, Hedgecock was forced from office and became a radio talk-show host.
In four of his first five reelection campaigns, Miller ran unopposed. By the time he sought a seventh term in 1994, he was the longest-serving district attorney of any large California county. He routinely received acclaim from prosecutorial peers nationwide.
Greg Totten, then-executive director of the California District Attorneys Assn., told The Times in 1994 that Miller "is looked to by many district attorneys for counsel and advice. He's seen it all."
But among the electorate, Miller had become a remote presence. He made few public appearances, held few news conferences and did not personally try cases. To many voters, his reputation as a fearless reformer and innovator seemed based on ancient history.
He was also faulted for the failed prosecution of a developmentally disabled man accused of molesting children at a church child-care facility. Community supporters blasted the prosecution as a "witch hunt" and some accused Miller of bowing to pressure in bringing the charges.
Friends suggested Miller not seek reelection in 1994 — an idea he angrily rejected. A poor campaigner, he ran fourth in a field of five candidates in the primary; the winner in the runoff, Paul Pfingst, had been one of Miller's star prosecutors in high-profile murder cases.
After his defeat, Miller retired to La Jolla, traveled in Europe, and rarely involved himself in local issues. He had never shown any interest in seeking another office and played no role in Democratic Party politics.
Edwin L. Miller Jr. was born in Los Angeles on Jan. 17, 1926. He served in the Navy during World War II and graduated from Dartmouth College in 1947 and UCLA law school in 1957.
Miller's wife, Barbara, died in December. He is survived by their son, Stephen, an assistant U.S. attorney in San Diego, and two grandsons.

Ed Miller, longtime San Diego DA, dies
By Dana Littlefield and Greg Moran
March 4, 2013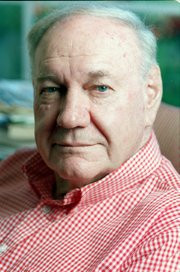 For a man who never really considered himself a politician, Edwin L. Miller Jr. left a lasting mark on one of San Diego's top elected offices, spending 24 years as the county's longest-serving district attorney.
Mr. Miller died Sunday at his La Jolla home from complications caused by liver cancer, his son said. He was 87.
Friends and colleagues remembered him Monday as an honest and innovative prosecutor, whose six-term journey as the county's top prosecutor came to an end after missteps in a couple of high-profile cases, most notably the prosecution of Dale Akiki, who was acquitted in 1993 of physical and sexual abuse charges.
But he was also recognized nationally for his many accomplishments, including setting up programs to prosecute career criminals, insurance fraud and street gangs. And he had a lasting impact on the many prosecutors he hired and mentored, even after he left office.
"He had always managed to bring out the best in those prosecutors," said his son, Stephen Miller, an assistant U.S. attorney in San Diego. "They loved him and admired him" he said.
District Attorney Bonnie Dumanis was hired by Mr. Miller and worked for him for 15 years.
"He was an acclaimed prosecutor, dedicated public servant and generous boss," she said in a written statement. "Ed Miller was a close friend and mentor to many of us in the District Attorney's Office for years."
Richard Huffman, who was once Mr. Miller's top assistant and now serves as an associate justice with the state 4th District Court of Appeal, said his former boss made the District Attorney's Office a career destination instead of a stop en route to private practice.
"He turned the office into a long-term professional place instead of a pass through kind of place, which is what it was," Huffman said.
Peter Hughes, a longtime criminal defense attorney and neighbor of Mr. Miller's for more than 50 years, called him a "class act."
"When he told you something, you could go to the bank on it," Hughes said. "He never played any games."
Thomas Warwick, also a defense lawyer, recalled hearing Mr. Miller speak to a class at the University of San Diego School of Law in the early 1970s, when Warwick was a student.
"He was a model for the way a professional prosecutor should be," Warwick said.
Mr. Miller, a Democrat, was elected district attorney in 1971. He had previously been a deputy city attorney and later assistant city attorney. In 1966, President Lyndon Johnson appointed him the first U.S. attorney for the Southern District of California. He spent a brief stint in private practice.
Born in Los Angeles on Jan. 17, 1926, Mr. Miller went on to graduate from Dartmouth College in 1947. He married in 1953 and the couple moved to California, where Mr. Miller enrolled at the University of California Los Angeles School of Law. He completed his law degree in 1957.
As district attorney, Mr. Miller turned the office's small economic crime unit into a major fraud division, established the first anti-trust unit in any local prosecutor's office in the country and created a professional bureau of investigation.
His influence spread throughout the state and across the country when he served as president of the California District Attorneys Association and was appointed by President Ronald Reagan to serve on his Commission on Organized Crime.
Some of his office's most noteworthy prosecutions included the death penalty case of Robert Alton Harris, who in 1992 was the first person executed in California in 25 years, and Cleophus Prince, who was convicted in 1993 of fatally stabbing six women.
His office also prosecuted then-Mayor Roger Hedgecock, now a talk-radio host and host of a show on U-T TV. He was convicted in 1985 of conspiracy and perjury charges related to campaign contributions.
Hedgecock's convictions were overturned on appeal, and in a plea bargain to avoid another trial he accepted the felony conspiracy verdict, which was later reduced to a misdemeanor and eventually expunged.
It was a quick succession of problematic prosecutions that dealt a blow to Mr. Miller's hopes for a seventh term in 1994.
It started with Jim Wade, a Navy man who was charged with molesting a relative. Prosecutors eventually dropped the case in light of DNA evidence that pointed to another man. But the Akiki case is widely viewed as Mr. Miller's downfall.
Akiki, a former Spring Valley church day care volunteer, was acquitted of felony charges after awaiting trial in jail for 2½ years. The trial lasted seven months.
Mr. Miller was defeated in the June 1994 primary, beating only one of his four challengers at the polls. Paul Pfingst, who had worked as a prosecutor under Miller for four years, won election that November.
Pfingst said Monday that those "two unfortunate cases" shouldn't overshadow Mr. Miller's contributions to San Diego, the state and the country.
"He clearly loved his job, loved being D.A.," Pfingst said. "He was a formidable presence."
Mr. Miller did not campaign for another office after his defeat. Instead, he retired.
His wife of 59 years, Barbara, died at their La Jolla home on Dec. 31. He is survived by his son, Stephen; daughter-in-law, Jennifer; and two grandsons, Jason and Corbin.